Delivering milk since 1972!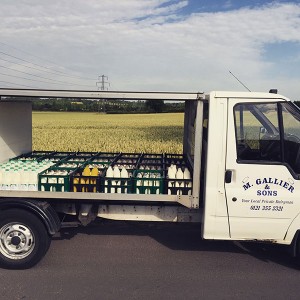 Galliers Dairy have been serving the West Midlands area for milk and dairy delivery for over 45 years, no product is off limits and we go above and beyond to place our customers at the centre of everything we do.
We provide a FREE delivery service 6 days a week.
We Deliver early in the morning to make sure you wake up to fresh milk.
Our products really are as fresh as possible with deliveries from farm gate to doorstep in less than 48 hours.
We deliver locally produced milk from Wells Farm Dairy in a little village called Bradley, Stafford.
We Deliver to Houses, Offices, Hotels, Factories, Care Homes, Nurseries, Cafés and many more.
We will deliver anywhere in the West Midlands; Sutton Coldfield, Erdington, Boldmere, Wylde Green, Coleshill, Curdworth, Hamms Hall, Whitehouse common or anywhere else with all deliveries made by professional milkmen.